Medical negligence
Finalists for Personal Injury Team of the Year at the Wales Legal Awards 2022
We're extremely proud of our Welsh medical negligence team who are finalists for Personal Injury Team of the Year at the Wales Legal Awards 2022 which will take place on 20 May 2022.
16 March 2022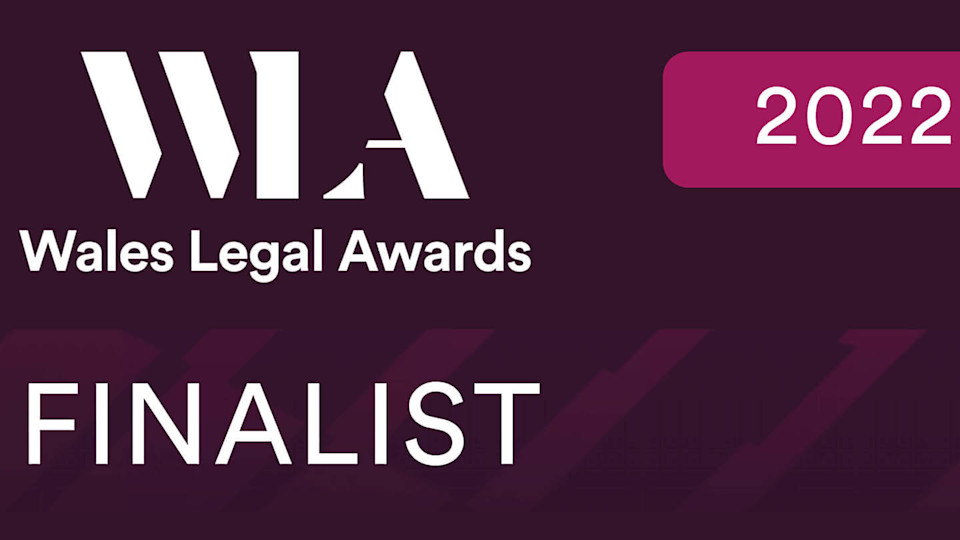 We're extremely proud to confirm that our Welsh medical negligence team are finalists at the forthcoming Wales Legal Awards 2022 in the category of Personal Injury Team of the Year.
Our team of Welsh legal experts, based in Cardiff, consistently demonstrate their excellence by the high level of client satisfaction that's generated as a result of their provision of first class legal advice. The comments they receive range from praise in relation to their legal competence, through to their hard work, ability to achieve outstanding results and also to their personal skills and attributes, approachability and empathy with clients they seek to assist.
Their excellent service comprises of a truly holistic approach, not only as a medical negligence team comprising of solicitors with a range of knowledge, experience and ability, but also encompassing the wider team and support that's available from being part of a much larger organisation.
They recognise that families affected by medical negligence may struggle with perhaps employment of carers, the breakdown of family relationships, issues of capacity and trust, so they ensure appropriate advice and support is provided to alleviate any immediate concerns. As a department they go the extra mile to inform and educate not only our clients but also our charitable partners by way of seminars and clinics, frequently drawing in Slater and Gordon's experts from other areas of law to talk about and explain issues which are important to the families they represent.
In addition, the team has excellent inhouse nursing and midwifery support and the information, support and advice they provide is freely available to our clients and charitable partners. This means that as a team they can really make a difference to their clients' lives
The Welsh team is led by Yvonne Agnew who has held membership of specialist clinical negligence panel since 1999. Yvonne said: "I'm extremely proud of our team and all we have achieved for our clients over the many years we've been representing them. It's an honour to be recognised by the Wales Legal Awards for our commitment, dedication and expertise in representing those clients at what is often one of the most difficult times of their lives."
We would like to congratulate our Welsh medical negligence team on becoming finalists for this award and wish them the best of luck at the award ceremony on 20 May 2022.