Personal Injury
8 of the most common construction injuries
Discover the top construction site injuries that every worker should be aware of, and what preventative measures you can take.
14 September 2023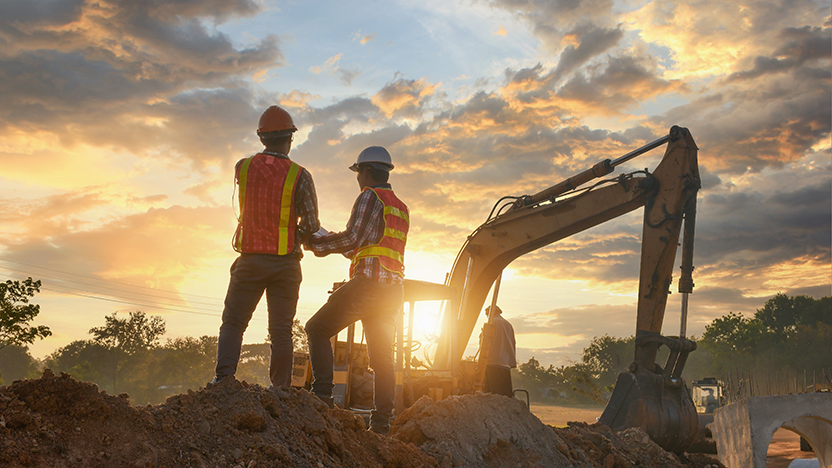 The construction industry has come a long way in terms of health and safety over the years, but construction is still one of the most dangerous industries to work in. Accidents and injuries can happen, often due to safety regulations, training, or equipment not being implemented by employers.
Our research revealed that 77% of those working within the construction industry have been injured whilst at work. Here are the most common injuries faced and what those working in the industry can do to help prevent them from happening.
Slips, trips, and falls
45% of research respondents said that they've had a slip, trip or fall while working on a construction site. It's common for surfaces to be uneven, slippery, or have obstructions on the ground which may cause injury. However, injuries due to slips, trips and falls at work can be prevented by:
Keeping pathways clear
Reporting any dangers to the site supervisor, and health and safety officer
Wearing suitable footwear
Being aware of your surroundings
Store potential trip hazards away safely
Cuts or lacerations
Cuts, or laceration injuries, are common on construction sites with 43% of those surveyed reporting having sustained this injury. They can be caused by defective machinery, tools, and materials, so it's important to ensure that you wear proper personal protective equipment (PPE) to minimise this risk. If you've not been provided with the correct clothing or PPE, you should speak to your employer prior to conducting the task at hand. The Personal Protective Equipment at Work Regulations 2022 (PPE) requires employers to provide PPE to all workers. Items like hard hats, safety goggles, and high visibility clothing are covered under this regulation, all of which are crucial to ensuring your safety. 
Muscle strain
Another one of the most common injuries is muscle strain, with 41% of respondents reporting to have had a muscle strain injury due to working in construction. A report by the Health and Safety Executive (HSE) shows that roughly 40,000 construction workers get a muscle, bone, joint, and nerve injuries every year.
This can be commonly caused by lifting or moving heavy items without the correct support. It's imperative that you follow the correct procedures, which should be outlined by your employer and in training. When in doubt, ask for help and use aids if available.
Hit by falling object
25% of construction workers report having had an injury due to being hit by a falling object. This can occur for many reasons, including building materials falling from a height, or scaffolding could come loose. In an ideal scenario, no object would fall from a height, which is why it's so important in construction to ensure everyone involved is following protocol and procedures properly. Both employees and employers have a responsibility to keep others safe.
Depending on what falls, injuries can vary from minor cuts, to head and brain injuries. Injuries may be reduced by:
Ensuring hard hats are worn.
Using warning signs near scaffolding
Repetitive strain injury
According to our research, 21% of construction workers have experienced repetitive strain injury. Construction workers have the highest estimated prevalence of upper limb disorders, compared to other industries, according to the HSE. Employers should provide you with the correct tools, equipment, and regular break periods when carrying out tasks that could cause this injury.
Repetitive strain injuries can develop over long periods of time, therefore time limitations for bringing a claim forward are slightly different. Once you've received a medical diagnosis, you have 3-years from the date of the diagnosis to make a claim if your injury was caused by failure of care from your employer.
Machinery accidents
Although less common, 12% of people have suffered an injury from machinery. Machinery accidents can have catastrophic consequences, and in some cases can be fatal. Equipment and machinery should only be used by those trained to use them, and your employer should ensure that the machinery is safe to use and prevent anyone from using when defects have been recorded.
Scaffolding accidents
When scaffolding is used incorrectly, it can cause serious injuries, including injuries to both the spine and brain. According to the HSE, falling from a height is the most common fatal workplace accident. Ensuring that your scaffolding is safe is extremely important and should be checked on a regular basis to minimise such life changing injuries from occurring. This includes:
Having no overbearing ladders
Fitting handrails
Using safety harnessing
Wearing a hard hat
Using guardrails and toe boards
Frequently carrying out risk assessments
Electrocution
6% of those working in construction have been electrocuted. Sites are prone to having wiring and power lines exposed, and sometimes equipment is not used correctly. Our client, Steve, was electrocuted when working on a construction site. He was lifting a scaffolding tube and accidentally touched a power line. This lifechanging incident has not only left Steve with severe burns to his body, but also prevents him from conducting daily activities. Find out how we supported Steve here.
In Steve's instance, there were safety measures that his employer missed, which caused his accident to occur. He urges construction bosses to stop cutting corners and encourages others in the industry to speak out if they think something isn't quite right.
How we can help
Our personal injury lawyers are experts when it comes to handling construction injury claims. Our team has years of experience and will help you get compensation, rehabilitation, and support for your injury.
For the majority of our accident at work claims, we operate on a no win, no fee basis, meaning there is no financial risk to you in finding out if you have a claim and appointing one of our construction accident lawyers to handle your case effectively.
To find out more, get in touch with us, either online or on 0330 041 5869.