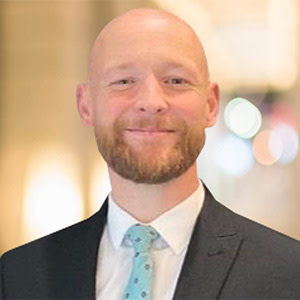 Jordan Bell
Head of Industrial Disease
I specialise in Military and Industrial Disease claims, with a focus on asbestos-related illnesses like mesothelioma, asbestosis, pleural thickening, and lung cancer, assisting both affected individuals and their families.
Get to know Jordan
I began my career in 2010 and qualified into the Industrial Disease team at Pannone Solicitors in 2012, Pannone later becoming part of Slater and Gordon in 2014.
I am a Principal Lawyer and have only ever represented claimants, never defendants, since qualifying as a solicitor. Since 2021, I have been leading our Industrial Disease department.
I am experienced in claims arising out of exposure to asbestos, both for individuals who have gone on to develop mesothelioma, asbestosis, pleural thickening and lung cancer as a result of their exposure, and families of individuals who have sadly passed away as a result of an asbestos-related condition.
Working from the firm's Manchester office, I represent clients based throughout the UK and abroad. I have successfully concluded cases for clients who were exposed internationally and for clients who are now living in the USA, Canada, Australia, New Zealand, Spain, France and the Middle East.
As well as acting for many individuals who were exposed to asbestos whilst working in traditional industries including engineering, petrochemical production and construction, I have also recovered compensation for clients who worked in schools, offices, hospitals and prisons, as well as for individuals whose only exposure was a result of asbestos dust brought into the home on the clothes of a family member.
As well as recovering damages for asbestos-related conditions, I have also successfully concluded cases arising out of exposure to other hazardous dusts and fumes, metal working fluids, lead, excessive noise and working conditions giving rise to mental illness caused by occupational stress.
This mesothelioma claim has been a distressing time for me. However, it was made easier by the kind, courteous and totally professional help I received from Jordan.

Client testimonial (for Jordan Bell)
Mr Jordan Bell could not have done any more from the outset of our late dad's case. Keeping us informed at all stages, nothing was too much trouble. Home visits, phone calls, emails. Once again, many thanks.

Client testimonial (for Jordan Bell)
Jordan dealt with myself and my mother with such consideration and understanding. Very pleasant person to talk to which made this process more easy to deal with.

Client testimonial (for Jordan Bell)
Career highlights
I recovered asbestos compensation for the family of a man who died of mesothelioma where the overall settlement value exceeded £1m.
I was also able to settle a mesothelioma claim against an asbestos manufacturing company on behalf of a client who had attended school very close to one of the company's production factories. My client was exposed to the asbestos dust that escaped from the factory into his school's playground and the surrounding area.
Recovered substantial compensation for a former prison worker who had developed mesothelioma and did not know where he had been exposed to asbestos when he contacted me.
Settled a high value mesothelioma claim for the family of a lecturer who was exposed to asbestos as a result of working in areas contaminated with asbestos dust unbeknownst to him or his family.
Recognition
I am accredited by the Association of Personal Injury Lawyers (APIL) as a Senior Litigator and a specialist asbestos claims and occupational disease lawyer.
I am ranked in Chambers and Partners as a band 2 lawyer and am described as follows:
"Jordan Bell is commended for his experience in dealing with asbestos-related disease claims, including those involving asbestosis, pleural thickening, lung cancer and mesothelioma."
"Jordan Bell is very conscientious and he knows his industrial disease cases - he is a proper specialist."
"He made everything bearable, and nothing was ever an issue. He explained everything fully and always answered my questions."
Find out more from our experts