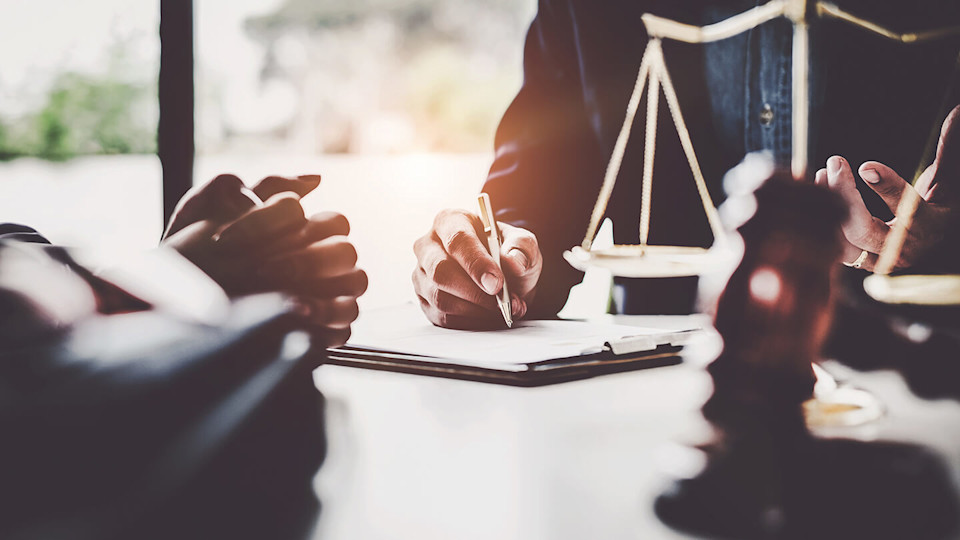 Expert Insight
What are the different legal job titles?
From paralegals to solicitors and chartered legal executives, the men and women working in the legal sector go by many names and have a variety of different responsibilities.
---
Indeed, if you thought the law was confusing, spare a thought for those of us working in the industry as even getting to grips with what our colleagues do is tough enough. That's why we decided to break down what's involved in the various positions and we asked some of our colleagues to give us an insight into what their working day entails:
Paralegal
This is somebody who's completed some legal training but is not qualified as a solicitor or chartered legal executive. The term is quite broad but usually applies to someone who is progressing files under supervision of a qualified solicitor or similar.
Olivia Hayes is a paralegal based at our Manchester office. She said: "The scope of a paralegal's role is vast. It's a very interesting job as you're responsible for so many different tasks and you don't do the same work day in day out. However, having such a varied workload means being faced with many different deadlines which can make for a very stressful and high-pressured role."
Lawyer
This word is frequently used but it is more a collective term for either a solicitor or barrister.
Litigation Executive
This is a term used in Slater and Gordon to describe someone who is not yet a chartered legal executive or qualified solicitor but the difference between this and a paralegal is that a litigation executive handles their own cases, under supervision, and has more responsibility.
Bethany Peers works as a litigation executive at our Manchester office. She said: "Working within the Occupiers and Public Liability team, I deal with a huge variety of cases from faulty bicycles to bull attacks and sporting incidents and I find myself really surprised at the level of expert training I receive. I attend seminars with leading QCs and Counsel and receive full support from associates and prinicipal lawyers. This allows me to deal with relatively complex cases from inception to trial."
Counsel
Again, this is a general term used to describe a barrister or other legal adviser conducting a case. Other words that are often used are lawyer, legal practitioner or advocate.
Solicitor
A solicitor is a qualified legal professional who provides expert legal advice and support to clients. Their clients can be individual people, groups, private companies or public sector organisations. They have the required qualifications and have completed a recognised period of training (Training Contract) in at least three areas of law to become a solicitor. They are governed by a professional body, in England and Wales this is the Law Society of England and Wales and regulated by the Solicitors Regulation Authority.
Rachel Shafar is a solicitor working in the clinical negligence department. She says she enjoys her role because she feels it is "more than just a job." She said: "The best parts of working as a clinical negligence solicitor include helping vulnerable clients who have been let down by medical professionals that they have trusted, and suffered serious, life changing injuries as a result. The work is incredibly rewarding and meaningful. It is challenging, interesting and complex. Each case is different and we can make huge differences to peoples' lives – not just in terms of recovering damages but ensuring clients receive sufficient assistance for the future, recognition that something happened that shouldn't have done, answers/ an apology and to ensure that lessons are learned so that it does not happen to anyone else."
Rachel thinks there are misconceptions about the work solicitors do though. She added: "People I meet tend to have an idea that solicitors are expensive and that they do not care about their clients, they are just interested in charging them for lots of work. In clinical negligence, the majority of our cases are run under Conditional Fee Agreements (No Win No Fee) and for us, the client is at the heart of everything we do."
Barrister
A barrister generally provides specialist legal advice and represents individual people and organisations in courts and tribunals and through written legal advice. In general, barristers in England and Wales are hired by solicitors to represent a case in court and only become involved once advocacy before a court is needed.
They too have the required qualifications and have completed a 'pupillage' (period of training). Barristers are represented by the Bar Council and are regulated by the Bar Standards Board.
Judge
Most judicial posts will require relevant legal qualifications that have been held for either five or seven years. It's common for barristers or solicitors to apply to be a part-time judge initially, in order to build up expertise.
Part-time judges are officially referred to as fee-paid positions. They carry out the same responsibilities as full-time judges but may deal with less complex cases and are paid according to the number of sittings or days. If a lawyer decides to become a full-time judge, they are not able to return to legal practice.
Chartered Legal Executive
A Chartered Legal Executive is a qualified lawyer who specialises in a particular area of law. They follow an alternative route into the profession set out by the Chartered Institute of Legal Executives (CILEx), the governing body.
They too provide expert legal advice and support to the same types of clients but the training to become a CILEx is narrower than the training route to become a solicitor. This means that CILEx's study to the same level as solicitors, but they study fewer subjects overall. The Legal Practice Course (LPC), which solicitors follow, includes a number of compulsory legal practice subjects.
Daniel Nicholas is a Chartered Legal Executive working in the Manchester office. Daniel, who won the CILEx Student of the Year award in 2013, said: "I was working for the court and tribunal service alongside tribunal judges and they said to me they thought I had an aptitude to study law. I looked into various options – law degree etc – and decided that wasn't for me. Partly because of the cost but also because I wanted to keep on working part time as I was already in a well-established career.
"Doing this route I was able to find the area I wanted to specialise in. Industrial disease was ideal, because I wanted to help people. I particularly enjoy working with older people who have often worked so hard for years and through no fault of their own have developed sometimes terrible illnesses. My role involves contact with clients every day and I would certainly say that meeting new and interesting clients makes this contact my favourite part of the job."
All information was correct at time of publication,
Find out more from our experts