Membership and partnership organisations
Our partnership with The Pace Centre
Specialist legal support can make a lifechanging difference for children and families living with cerebral palsy and neurological conditions. Read more about our partnership with Pace.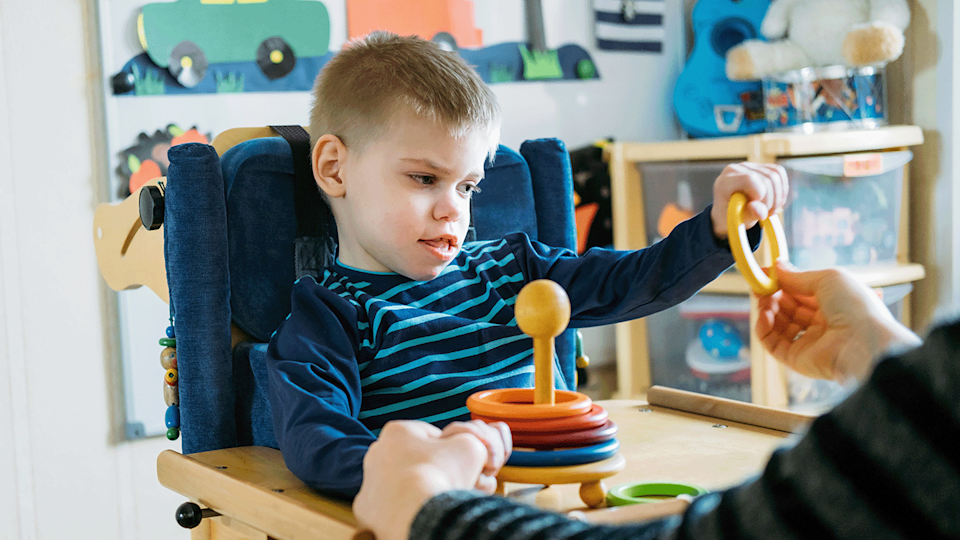 Why choose Slater and Gordon as your legal representative?
At Slater and Gordon, we understand just how important the support and care that The Pace Centre provides to children with cerebral palsy and complex need.
Our team of specialist lawyers and midwives are experts in the field of cerebral palsy cases, and will guide and support you through the legal process. We want to ensure you not only achieve the best outcome, but also your child receives the best possible care, treatment, rehabilitation, aids, equipment and support (both during the case (where appropriate) and afterwards, for life).
Highly experienced
Our highly specialist medical negligence lawyers represent those who have experienced complex cases of negligence and have been involved in some of the most high-profile and ground-breaking cases.
Having decades of experience working on cerebral palsy cases and a network of support resources, our expert team of lawyers is here to help every step of the way.
Strongly recommended
We have a strong reputation for achieving results in cerebral palsy cases. Our head of medical negligence, Emma Doughty, has been recognised by independent legal guides, for her work and contributions to the medical negligence field. The Legal 500 has ranked Emma as a 'Leading Individual' since 2017 and has recognised her as a "standout lawyer". Independent legal guide Chambers and Partners also recognises Emma's expertise, having been ranked since 2020.
Medical team of nurses and midwives
Alongside specialist medical negligence lawyers, our wider team includes litigation nurse, Matt Brown and midwives Kim Burns and Helen Stanley who provide our solicitors with their expert knowledge. Our team is here to do more than prove that the treatment and care you received was substandard, we are here to help get you the rehabilitation and support you need, so you can focus on your family and your future.
Treatment and rehabilitation support
We work with some of the UK's best treatment providers and case managers, to ensure, where possible, we seek early interim payments. This payment endeavours to provide you the support for a high quality of life.
No financial risk
For the majority of our cerebral palsy and medical negligence cases, we work on a No Win, No Fee basis.
A no win, no fee agreement is a way of pursuing a medical negligence compensation claim with no legal fees to pay upfront.
Slater and Gordon has the ability to request Legal Aid funding for cases involving children who have experienced a neurological injury at birth or during the early neonatal period, such as cerebral palsy. Not all law firms are able to provide this funding option.
Other services
Being one of the UK's largest law firms, we have a team of dedicated professionals specialising in a wide range of legal services. Our experts are well-versed in various practices, including Court of Protection and family law.
What are the next steps?
Given our many years of experience helping those who have been affected by cerebral palsy because of medical negligence, we understand the challenges you may face, and we are here to help.
Our team is highly trained and will provide you with the best possible advice, as well as support and guidance. To get more information, you can contact our Head of Medical Negligence, Emma Doughty on 0330 995 6823 or email emma.doughty@slatergordon.uk
My husband and I have been beyond satisfied with the service and help / advice given through the claim process from Emma. After facing a traumatic experience, the team have helped in getting compensation and holding the relevant people accountable for their actions, and it cost me £0. The communication, openness and transparency through the process was really above and beyond; always willing to explain areas that we didn't understand.

Client testimonial (for Emma Doughty)
You ensured that we knew everything that was needed and listened to any fears or concerns we had so. I feel you were not just professional but caring, supportive and felt like a friend.

Client testimonial (for Emma Doughty)
Emma balances a professional and personable approach, which has helped us to build and experience a positive working relationship. She has applied herself tirelessly. We feel incredibly lucky to have such fantastic representation and experience on our side.

Client testimonial (for Emma Doughty)