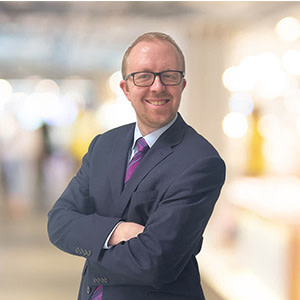 Michael Compston
Solicitor
Few people ever really wish to instruct a Family Law Solicitor. That's why I pride myself on being empathetic and client-focused from day one. I will always fight your corner to the best of my ability.
Get to know Michael
I have worked in law for 10 years and have been qualified as a Solicitor for 4 of those, qualifying in 2019. My career has been spent predominantly serving clients based in the North West of England, particularly Manchester and Cheshire.
I trained at a leading national law firm before moving to one of the country's largest specialist family law practices. I then spent time working in a smaller, more boutique outfit before joining Slater and Gordon in July 2023.
My expertise stretches across all areas of Family Law. I regularly represent clients in proceedings arising out of the Family Law Act 1996 - commonly Occupation and Non-Molestation Orders - and the Children Act 1989, as well as advising on finances following the breakdown of relationships. I've always been very numerically literate, so complex financial matters are dealt with by me without issue.
Career highlights
There have been many highlights in my career, though a few that stand out begin with helping a Father who had been refused any contact with his teenage daughters as a result of historic rape/violence allegations made by their Mother. I supported in obtaining a judgment of no findings being made against Father and contact was therefore reinstated.
I've also helped a Husband with a terminal illness obtain a favourable divorce from his Wife in order to protect his assets for his children, as well as assisting on a case that looked at the validity of Islamic religious ceremonies without a formal, civil ceremony following - Akhter v Khan.
Find out more from our experts