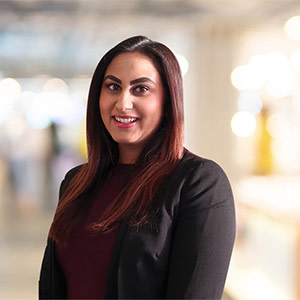 Natasha Orr
Military Team Leader and Senior Associate Industrial Disease Solicitor
My job is a privilege as every day I have the opportunity to help rebuild a life and a family.
Get to know Natasha
I began my legal career in 2012, joining Slater and Gordon in 2015, and I now lead our Military Team, as well as being a Senior Associate in the Industrial Disease team.
Coming from an Armed Forces background and, particularly with my husband currently serving in the Royal Navy, I understand the sacrifices made by those serving in the Armed Forces and their loved ones. As a result of this, I have specialist military knowledge and have the skills to deal with the complexities and uniqueness of military cases. Being an APIL (Association of Personal Injury Lawyers) accredited Senior Litigator, I've worked on several complex cases, across both military and industrial disease, always ensuring my clients get the best possible outcome for their circumstances.
I have worked on a variety of high value military claims, including non-freezing cold injuries, noise-induced hearing loss, PTSD, and serious injuries, to name a few. I also have specialist knowledge of the Armed Forces Compensation Scheme (AFCS) and can advise on both civil claims and AFCS claims.
I also specialise in industrial disease claims, with a particular emphasis on asbestos related claims, including asbestosis, pleural thickening, mesothelioma and lung cancer with a particular interest in occupational cancer claims. I have experience dealing with all types of disease claims and have dealt with a caseload of complex industrial disease litigation, since my qualification as a solicitor.
I work closely with both asbestos victim support group charities and military charities as part of my role; both attending support group meetings and organising and attending charitable events on a regular basis. Being involved with military charities is something deeply important to me, because of the personal connection I have to the armed forces; it's my way of giving back to the military community.
I recommend anyone who goes through Slater and Gordon to personally ask for Natasha, she has worked with me and fully supported me throughout my case, she is amazing. Always there whenever I needed her, even late at night and has always done what's best for me. I can't thank her enough.

Client testimonial for Natasha Orr
An absolute first-class service. Compassion, understanding and care was given throughout the process. We could not have asked for a more dedicated lawyer. Excellent people skills and professionalism at its best. Thank you for all your hard work, Natasha. Words really cannot express our gratitude to you. You believed it was the right thing to do and succeeded. Keep doing what you are doing.

Client testimonial for Natasha Orr
I first met Natasha Orr last February when she represented me in an industrial disease claim. From the beginning she acted with efficiency at all times. My case was by no means straightforward and she two defendants she had to negotiate with, but she went above and beyond. She is the one who will fight for your whole-heartedly. Thank you so much Natasha, you were brilliant at all times, it was a pleasure to have met you.

Client testimonial for Natasha Orr
Career highlights
The work I get to do on a day-to-day basis is what makes this job worthwhile for me, rather than an individual case. My job enables me to provide a voice to those who often don't have one, and to assist clients on the road to rebuilding their lives. The hardest part of this job is assisting terminally ill clients and families with their claims, knowing that my efforts will not be able to save them from their disease. The devastation to their families is challenging to see, but being able to obtain a sense of justice for these clients makes it even more worthwhile.
I very much enjoy the practical aspects of the job and being able to find solutions to real life problems and issues. A recent case I'm currently working on involves a sailor serving in the Royal Navy who suffered a devastating, penetrating injury to his left eye, which ultimately resulted in the loss of his eye. He was unsure about seeking legal advice, but in my years of being a solicitor, I've found empathising and understanding and building a trusting relationship with my clients are the best ways to put them at ease. In this particular case, I shared my own experiences with my client and in doing so, gained his trust and ensured I would do my best to get him the compensation and treatment he deserved. Unfortunately, he was facing an 18 month wait for the necessary surgery, and in the meantime his eye was causing him extreme pain and severe headaches. Fortunately, I was able to arrange for the claimant to have surgery privately after securing an interim payment from the Defendant to meet the costs of treatment in a matter of a few weeks. I was glad to be able to help the claimant with his immediate treatment needs and ensure he got access to medical treatment he desperately needed.
The extra mile
I undertake various fundraising events for the asbestos victim support group charities we work closely with; both attending support group meetings and also organising and attending charitable events on a regular basis. This includes: Mesothelioma UK, Readley and Walking With the Wounded
In addition to this, I also work closely with our union clients and deliver legal training workshops to their members.
Outside the office
When I am not walking or hiking up mountains for charity fundraisers, I enjoy powerlifting and I actively compete in local and regional powerlifting competitions.
Find out more from our experts