Personal Injury
Andy Cox 200k charity run highlights
Slater and Gordon are proud to have been silver sponsors of Andy Cox's 200km challenge in support of Roadpeace charity for Global Road Safety Week read more about his journey and the highlights.
24 May 2021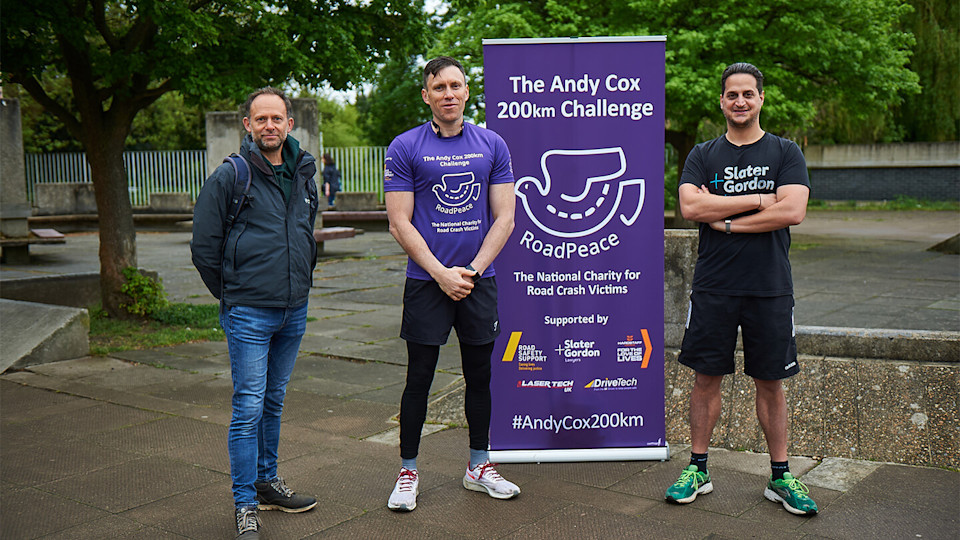 Detective Chief Superintendent Andy Cox, Head of Crime at Lincolnshire Police, has now completed his huge 200k running challenge during Global Road Safety Week last week (17-23 May 2021) in support of RoadPeace.
Slater and Gordon are proud to have been part of this fantastic event to raise much needed funds for Roadpeace and the vital work they do in providing support to victims and families of victims involved in devastating road crashes.
Andy set himself a goal of raising £25k for RoadPeace but has gone above and beyond that and the current total is £37,428! Andy's reason for taking on this challenge was to raise awareness about the impact of road harm and the need to reduce road danger.
Lot's of people supported Andy on his journey by running, cycling or walking alongside him either physically in person or in their home town for all or part of the nine day event.
Nick Simmons, RoadPeace CEO said: "Thank you to Slater and Gordon for sponsoring the run. Too many people are killed and injured on the roads, and the money raised will go towards funding much needed support services.
"We are immensely grateful to DCSI Andy Cox for raising money for RoadPeace, but equally that he is bringing attention to the issue of road danger. Road deaths have stayed at the same level since 2010 – at around 1,800 people killed in Britain every year – which equates to five people killed every day. The devastation caused by these crashes is preventable, and we are grateful that DCSI Andy Cox is using his voice to call out society's tolerance to road danger."
The run started at the location of the first ever UK fatal road collision, near Crystal Palace, in London, and ended at the RoadPeace Wood at the National Memorial Arboretum, in Staffordshire, which provides a symbolic and comforting place for bereaved families.
Slater and Gordon Lawyer, Nicholas Hagi-Savva successfully completed leg one with Andy in 2 hours 45 minutes.
The route took him through a number of UK counties where victims of crashes along with colleagues from local police areas, road safety professionals, members of the public and corporate supporters joined him to cover some of the distance alongside him, or cheered him on.
The event attracted a lot of news coverage from ITV London, Five News, The Sunday Times and the The Daily Mail.
Andy said: "I'm really grateful to Slater and Gordon for sponsoring the run. RoadPeace does an amazing job to support seriously injured people and bereaved families, helping them come to terms with their loss and supporting them through such a terrible experience.
"They also play a key role in advocating for road safety change and in doing so seeking improvements across the system, to help prevent future collisions and to improve the experience and processes for those who sadly have been affected.
"Following the pandemic and the cancellation of many fundraising events, RoadPeace needs our support more than ever right now."
If you'd like to make a donation, please visit Andy's JustGiving page here.
Related Content
Event
Slater and Gordon are proud silver sponsors of Andy Cox's 200km challenge in support of Roadpeace charity for Global Road Safety Week 17-23 May 2021.