Road traffic accident claims
Road traffic accident FAQs
The most commonly asked road traffic accident questions you might have, answered by our legal experts.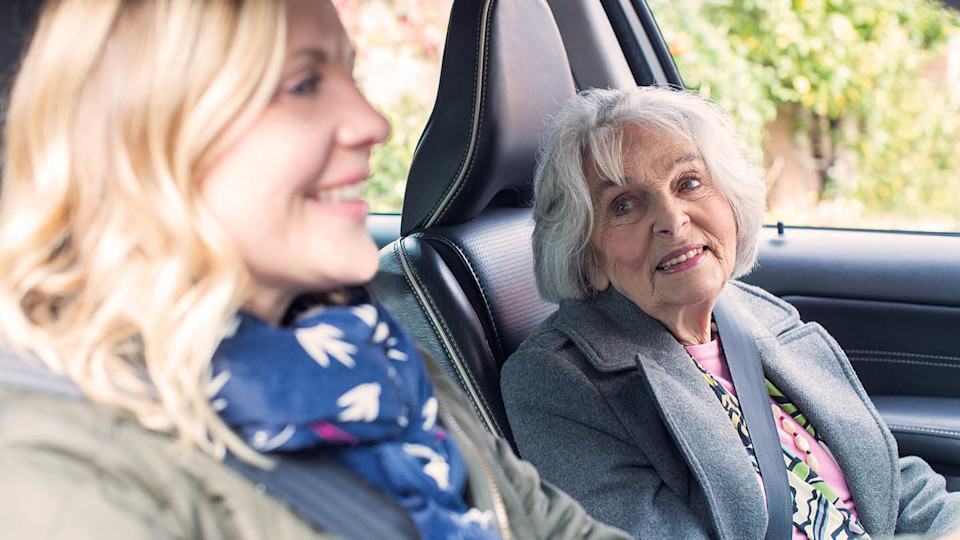 No Win No Fee road traffic accident experts
Slater and Gordon is one of the UK's leading law firms in road traffic accident claims. We'll provide you with the best possible legal representation and help you get the compensation you deserve. Talk to us now on freephone 0330 107 6518 or contact us online to speak to one of our specialists today.
Speak to a member of our personal injury team today
Contact us
I've been involved in a road traffic accident that wasn't my fault. How do I start a claim for compensation?
When you've been injured in a road traffic accident, the most important thing to do is to seek medical attention. When you feel able to speak to, you should contact a road traffic accident solicitor.
When you first contact one of our solicitors, they'll discuss your case and talk about what your options are, and explain the claim process to you.
If your case is eligible for compensation, we will require evidence that supports your claim, and we'll also get medical expert opinions to comment on your injuries and any potential impact they may have in your life going forward.
Can I represent myself in a whiplash injury claim?
If you have a whiplash injury as a result of a road traffic accident, you can bring the claim forward yourself as a litigant in person. However, there are challenges which you may be faced with when representing yourself, making your claim a stressful and complex process.
Without the guidance of a solicitor, there are certain stages of the process that will be difficult for you to understand alone, such as arguing liability, and understanding medical evidence.
If you're considering representing yourself in a whiplash claim, make sure you're aware of the challenges you may face and read our guide here.
What evidence will I need to provide to support my claim?
If you were able to take evidence at the scene of the accident, we will ask you to share that evidence with us. That evidence may include:
Details of the person at fault / the other driver
Details of any witnesses
Photographs of the accident scene
Photographs of your injuries.
You may also be asked to provide details of any medical appointments you've attended and any medication prescribed to help with the treatment of your injuries. We will also need to send you for an independent medical appointment where a medical examiner will examine you and write a report based on your injuries.
How do I fund a claim for a road traffic accident?
The vast majority of road traffic accident claims are funded under a No Win No Fee agreement. Under a No Win No Fee agreement, if your case is unsuccessful, you won't have to pay a penny which means they'll be no financial risk to you. Click here for more information on No Win No Fee claims.
Are you able to claim on behalf of someone who has died as a result of a road traffic accident?
If a loved one has passed away as a result of a road traffic accident, you may be able to claim on their behalf. If the deceased made a will, the executor of the estate is responsible for pursuing the claim on behalf of any dependents. If there is no will, only certain relations or family members are able to make a claim following the death of a loved one.
The people who are able to make a claim for compensation are prescribed by law and the list is extensive, but one of our experts in road traffic accidents will be able to advise whether or not you can make a claim. For more information on fatal injuries, please click here.
Can I make a compensation claim if I was injured in a road traffic accident but was not wearing a seatbelt?
If someone else was at fault for you being injured in a road traffic accident then you can make a claim for compensation. If it's found that not wearing your seatbelt made your injuries worse, then you will be found partially to blame for the accident and your compensation payment will be deducted to represent the percentage of your blame.
Can I claim compensation if I was injured in a road traffic accident in another country?
If you've been injured in a road traffic accident in another country, whether as a driver, cyclist, motorcyclist, passenger or pedestrian, you may still be able to make a claim for compensation.
Often in road traffic accidents which happen overseas, there can be conflicts in jurisdictions and law and in many European countries there are laws where fault doesn't need to be proved. This is why it's so important to ensure the law firm you choose has specialists in road traffic accidents abroad who understand the laws which apply and have a network of experts across the globe.
Meet the personal injury experts
Meet our specialist personal injury team, many of which are considered 'Leaders in their field' with a significant amount of expertise.
---
Really helpful and always on the other side of the phone if needed. Quick and easy service.

Ashley
Excellent communication, in constant contact with the latest info regarding your case.

David
Everything is moving along quickly and smoothly. Good professional service I'm glad I chose Slater and Gordon.

Kenny Jackson