Military accident claims
Military PTSD compensation claims
Post-Traumatic Stress Disorder affects many people who have suffered near-death or other traumatic experiences. If you or a loved one suffers from PTSD that relates to military service, talk to us today. Slater and Gordon handles most military compensation cases on a No Win No Fee basis.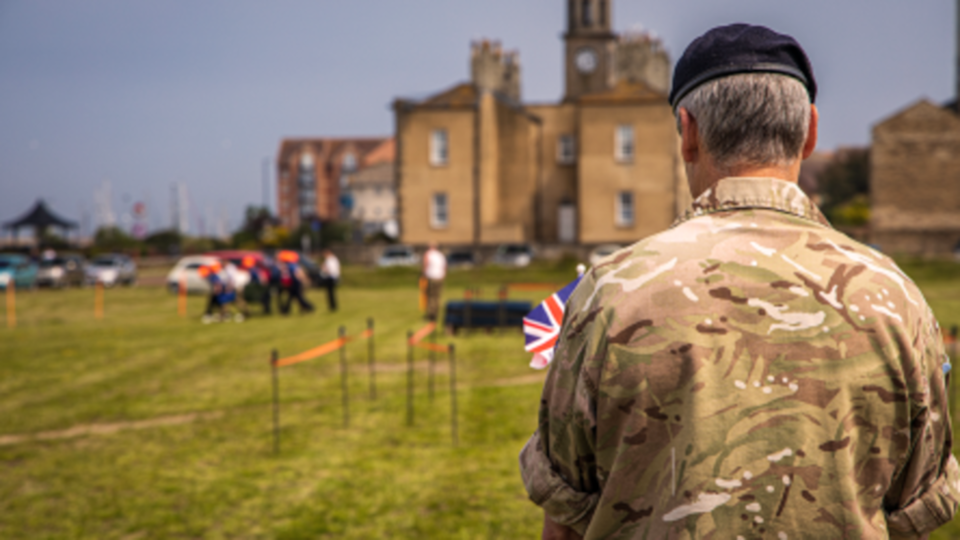 No Win No Fee military PTSD claims
Slater and Gordon is one of Britain's leading consumer legal firms with PTSD compensation claim experts, helping military personnel to claim the compensation they deserve. Call Slater and Gordon on freephone 0330 041 5869 or tell us about your PTSD and we will call you.
Contact Slater and Gordon to start your PTSD compensation claim
Contact us
What is Post-Traumatic Stress Disorder?
Post-Traumatic Stress Disorder (PTSD) is now recognised as a serious condition that can leave sufferers depressed, anxious and unable to live their lives the way they did before the trauma occurred. As it's caused by the fear of imminent death and other traumas, it is fairly common amongst military personnel and veterans.
Can I claim for PTSD caused by military service?
While danger is inherent in combat operations, you may be eligible to claim compensation for PTSD under certain circumstances, such as where:
Extreme danger resulted from negligence
Reasonable precautions weren't taken
Officers failed to recognise the symptoms of PTSD
Medical Officers failed to correctly diagnose PTSD
So if you believe that your PTSD resulted from these or other failings by others, you owe it to yourself to talk to one of our PTSD solicitors today.
What can military PTSD compensation pay for?
There are two ways in which military PTSD compensation can help you. Firstly, it can help to compensate you for loss of earnings, if your symptoms are preventing you from working and earning as much as you would be able to without PTSD.
Just as importantly, there are a number of therapies that are proven to alleviate the symptoms of PTSD, and any compensation claim we undertake on your behalf will include a sum to help pay for rehabilitation treatments including:
Eye Movement Desensitisation and Reprocessing (EMDR): helps to prevent difficult memories from causing stress by helping the brain to reprocess them

Cognitive Behavioural Therapy (CBT)

: helps you to come to terms with bad experiences by changing the way you see them
Group Psychotherapy: helps you to deal with difficult memories by confronting them in the company of a group that has shared similar experiences
How much is my military PTSD compensation claim worth?
As you would expect, every military PTSD compensation claim is different, with the final figure for compensation dependent upon the severity of your symptoms as well as the length of time that your recovery may take.
Yet our expertise is not just in securing compensation for our clients, it's also in understanding the need for rehabilitation and the support that you and your family will need right away.
That's why we take most military PTSD compensation claims on a No Win No Fee basis, and why obtaining interim payments to help you avoid hardship is often central to our approach.
The Armed Forces Compensation Scheme (AFCS)
There are a number of Government compensation schemes for forces personnel suffering from both physical injuries and PTSD. These are administered by Veterans UK and you can find out more about these schemes here.
Are there any other causes of PTSD?
Many people are affected by PTSD, from fire crews and police officers who deal with death every day, to those who have simply witnessed an horrific incident or had an unexpected brush with death.
So if you suffer flashbacks, depression, anxiety, nightmares, or any other symptoms of PTSD, resulting from events that were not your fault, talk to one of our experienced and understanding PTSD solicitors about claiming compensation.
Begin a military PTSD compensation claim
Slater and Gordon will provide a sympathetic, professional and honest approach to people who come to us with military PTSD.
If you're suffering from the symptoms of PTSD, as a result of military service or any traumatic events, talk to one of our experienced and understanding military PTSD solicitors on 0330 041 5869 or online here.
Meet the military injury experts
Meet our specialist military injury team, who have a significant amount of expertise when representing military personnel who've been injured or made ill.
---
Really helpful and always on the other side of the phone if needed. Quick and easy service.

Ashley
Excellent communication, in constant contact with the latest info regarding your case.

David
Everything is moving along quickly and smoothly. Good professional service I'm glad I chose Slater and Gordon.

Kenny Jackson