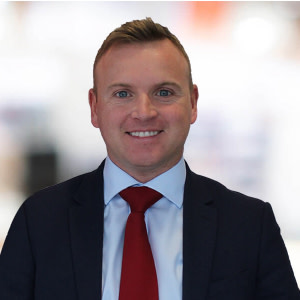 John Doyle
Principal Lawyer
I am a big supporter of the NHS and have great respect for the tremendous work most of the medical profession do. However, I firmly believe that when patients suffer avoidable and often catastrophic harm, they should be reasonably and fully compensated and I am committed to doing all that I can to win the case for my client.
Get to know John
I am a principal lawyer and team leader in Slater and Gordon's medical negligence department in Liverpool. I am responsible for my teams supervision, training and development in addition to running my own caseload.
During my career I've dealt with a wide variety of complex and high value claims. I specialise in cases involving all aspects of medical negligence, including birth injury for mother and baby, brain injury, spinal injury, surgical errors, missed or delayed diagnosis (fractures / cancer), failure to treat and fatal accident cases including assisting families through the inquest process.
I represent injured patients and their families and have focused exclusively in this practice area since 2007.
Thank you John, You have gone above and beyond in this and we are eternally grateful.

Client testimonial (for John Doyle)
I feel that you have done a 1st class job for me.

Client testimonial (for John Doyle)
The entire process was managed in a sensitive and compassionate manner. I felt comfortable discussing personal information with staff, thanks to their open and kind nature. Thanks to John and his colleagues at Slater Gordon, my future is much more secure. I cannot that them enough or recommend them more.

Client testimonial (for John Doyle)
Career highlights
Throughout my career I have been fortunate to act for many inspirational clients whose lives have been fundamentally changed as a result of negligent medical treatment.
Each one of those clients leaves their own mark and shapes me as a person and lawyer. Successfully concluding cases in my client's favour is incredibly satisfying and securing an apology and / or compensation for my client is always a real highlight.
The vast majority of cases settle however, from a career in law perspective have been fortunate to be directly involved in a number of cases that proceeded to trial and have experience in the County Court, High Court and Court of Appeal. The following are formally reported cases.
Sontino Lennie (by his mother and litigation friend Lisa Lennie) v Royal Victoria Infirmary & Associated Hospitals NHS Trust [2006] EWCA Civ 975 [Phillips, LJ Brooke LJ, Waller LJ].
South Yorkshire Strategic Health Authority - v - Corbett (By his mother & Litigation Friend
Catherine Elizabeth Corbett) (2008) EWCA Civ 5 [Waller LJ, Buxton LJ, Smith LJ]
Simon Boustead (A Protected Party suing by his mother & Litigation Friend Belinda Murray) –
v - North West Strategic Health Authority (City Maternity Hospital Carlisle) (2008) QBD –
Newcastle (Mackay J)
Find out more from our experts