Home

>

Blog

>

2016

>

08

>

Investigations Into Holiday Illness Claims at Club Mac Alcudia Pins Resort in Majorca
09 August 2016
Investigations Into Holiday Illness Claims at Club Mac Alcudia Pins Resort in Majorca
The holiday illness claims team at Slater and Gordon is currently investigating reports of an illness outbreak at the Club Mac Alcudia Pins resort in Majorca.
We are representing several families who say their holiday was ruined by vomiting, diarrhoea and stomach ache, which they believe was caused by foodborne illnesses.
Our clients stayed at the resort during May and June 2016.
How Can a Holiday Illness Claims Specialist Help?
Should you wish to pursue a holiday illness claim, it is important that you contact the right kind of lawyer. This is because complex issues can arise when pursuing a claim for an incident that has occurred overseas.
First of all, our specialist holiday illness claims solicitors would determine whether you can bring your overseas claim back home in England or Wales. Holidaymakers and travellers involved in a road traffic accident overseas are often unaware that they can make a claim once they are back home in the UK, but they can. For more information on this, see our previous blog: Can I Claim for an Overseas Road Accident in the UK?
Next, we would investigate whether English law applies to your claim or the laws of the country where the incident occurred. The travel litigation lawyers at Slater and Gordon have extensive experience in dealing with all manners of travel claims involving foreign litigation.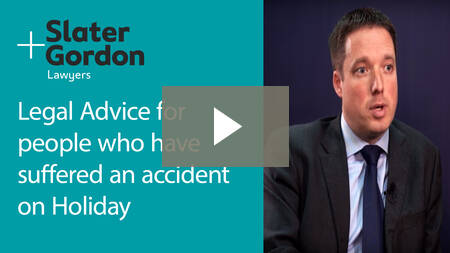 Is There a Time Limit For Making a Claim?
Generally a time limit will apply if you sustain a personal injury at home in the UK or abroad whilst travelling and on holiday. If English law applies to your case, the time limit is typically three years - and longer if you are a minor or lack capacity. 
We have acted for many people who have been affected by holiday illnesses, including individuals and group action claims. For more information on how we have helped past clients, see our recent case studies, including Tenerife Holidaymaker Compensated for Holiday Illness.
For further information on seeking compensation for a holiday illness, see: Can I Seek Compensation if I Fell Ill on Holiday?
Simon Weilding is a personal injury litigation executive and travel claims specialist at Slater and Gordon in Manchester.
Slater and Gordon Lawyers offer a free consultation for people who suffer food poisoning on holiday abroad or in the UK.
If you or your holiday party suffered food poisoning whilst on holiday at the Club Mac Alcudia Pins resort in Majorca call freephone 0800 916 9046 or contact us online and we'll be happy to help you.
Comments
Monday 8th January 2018

Thursday 22nd June 2017

Friday 2nd June 2017