Home

>

Blog

>

2016

>

08

>

Did You Know August is National Road Victims Month?
02 August 2016
Did You Know August is National Road Victims Month?
Each year, August marks National Road Victims Month – a time for remembering those tragically killed or injured in road traffic accidents, whilst raising awareness to promote road safety in the future.
Road traffic accident charity, Roadpeace, has observed the month since 1998. The month is significant as it traditionally sees the highest number of deaths on British roads. Furthermore, the Roadpeace site highlights several poignant historical road traffic accidents that occurred in August, including:         
Scientist Mary Ward, who was killed when she fell under the wheels of an experimental steam car on 31 August, 1869;
Bridget Driscoll, the first person to be killed by a car in the UK on 17 August, 1896;
Diana, Princess of Wales, who was killed in a road traffic accident on 31 August, 1997.
Awareness is key when it comes to road safety, when distractions are considered a leading cause of road traffic accidents.
A study by the AAA foundation revealed that one in eight road traffic accidents (12 per cent) are the result of the driver distracted by their smartphone, with 15 per cent of accidents caused by drivers talking to someone in their car. Jurek Grabowski, research director for the AAA Foundation, said: "This new research shows distraction continues to be one of the leading causes of crashes for teen drivers."
As road traffic accident solicitors, we sadly see too many cases involving people who suffer a serious injury or are tragically killed as a result of reckless driving. The twisted wreckage of a tragic road traffic collision was put on display at Westminster Parliament as part of a campaign by road safety charity, Brake, raising the question of whether the law is too lenient on drivers who kill. For further information on this, please see our previous blog:  Is The Law Too Lenient on Killer Drivers?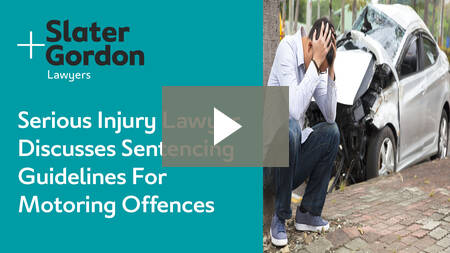 Slater and Gordon Lawyers are proud to support National Road Victims Month.
For those of you headed overseas for the summer holiday season, see: Driving in Europe? What do You Need to Know?
Martin James is a senior personal injury solicitor and National Head of Serious Personal Injury at Slater and Gordon in Manchester.

The specialist personal injury lawyers at Slater and Gordon are experts in helping people with road traffic accident compensation claims and guiding them to brighter outcomes.
Read more about our brighter outcomes, including: £9.75m for Taxi Passenger After Collision Leaves Him Paralysed
For a free consultation, call us 24/7 on freephone 0800 916 9046 or contact us online and we'll be happy to help you.
Take a second to rate this article
Thank you!
Comments
Friday 29th March 2019

Friday 2nd March 2018

Monday 4th December 2017