Home

>

Blog

>

2016

>

07

>

Cyclists, Protect Yourself From Pothole Accidents
28 July 2016
Cyclists, Protect Yourself From Pothole Accidents
Potholes are a very real threat to cyclists on UK roads, but you can help yourself by reducing the risk of sustaining injury.
A recent report by the Asphalt Industry Alliance (AIA) estimates the bill for pothole repairs in the UK at £11.8 billion. Last year the Government announced a £250 million pothole fund to fix over four million potholes by 2020/21. However, this is nowhere near enough as it is estimated that on average each council needs £69m. The AIA estimates that it will take 14 years to clear the backlog of pothole repairs. There is one defect for every 110m of road.
As a cyclist it is almost impossible to avoid potholes. So what can you do to minimise the risk of injury? These are my tips:
Constantly scan the road to look out for potential hazards and try to adjust your riding line without sudden movements. 
Watch out for puddles and standing water – a pothole could lurk beneath.
If you are riding in a group remember to shout "hole" and point to the hazard to warn cyclists behind you.
Ensure that your tyres are pumped to the correct pressure (check the sidewalls of your tyres).
Maintain a good relaxed riding posture. If your shoulders are relaxed, elbows bent and have a good grip of the handlebars (with both hands!) you will be more likely to absorb any unexpected bumps on the road surface.
It is a good idea to wear a cycle helmet as it will provide a degree of protection, particularly in low speed spills.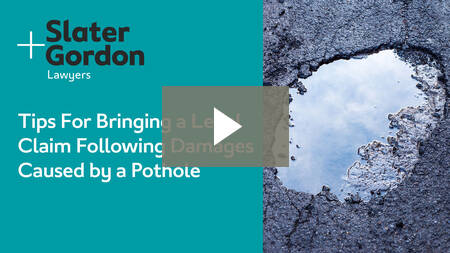 What Can You do to Help Fellow Road Users?
If you do encounter a dangerous pothole on the road, it is important that the hole is registered on Cycling UK's Fill That Hole website.
Local councils have a duty to maintain the roads, but they can only fill a pothole if they know about it. Fill That Hole directly contacts the relevant council who, in turn, are generally quick to respond.
Reporting a pothole can make the roads that little bit safer for yourself and others. In the event you suffer injuries caused by a pothole or road defect you should gather as much evidence as possible. This may include photographic evidence of the pothole and the damage it has caused, and it may also include evidence from any witnesses.
Richard Gaffney is Slater and Gordon's principal lawyer for Cycling UK (previously CTC), the national cycling charity.
Slater and Gordon Lawyers can provide you with free legal advice on cycling accident claims in an online guide that you can download and print.
Call us for a free consultation on 0800 916 9046 or contact us online and we'll be happy to help you.
Take a second to rate this article
Thank you!
Comments
Friday 13th December 2019

Wednesday 3rd January 2018

Tuesday 5th September 2017